Welcome to SpArc Services
At SpArc Services, our mission is to support people with disabilities by providing programs and services that encourage inclusion, independence, and personal achievement and provide services through programs designed to fit each individual and develop personal goals and milestones for growth.
Cultural Arts

The Cultural Arts Center fosters creativity, self-confidence, and community connections for adults with developmental disabilities through classes in the visual and performing arts, outings to cultural venues, and opportunities to collaborate with other artists and arts-based organizations. Local artists and educators teach program participants skills in ceramics, drawing, painting, theater, music and movement. People enrolled in the program also make connections to the Philadelphia arts community and beyond through a variety of exhibitions, projects, and partnerships.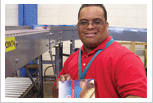 Job Training, Employment Partners and Job Placement Services

Employment Partners administers a vocational evaluation and provides skills training, job placement and job coaching. Highly individualized plans are created and implemented for each person in the program with the definitive goal of finding long-term, independent, competitive community-integrated employment. Services are provided to adults with a wide range of disabilities, behavioral health issues, learning disabilities, visual issues, auditory issues at companies such as Shop Rite, PennDot, Walmart, Prime Flight Aviation and WaWa.
Services provided through our job training center give individuals the tools they need to build basic job skills and earn a paycheck. Through worksites at local businesses, participants are exposed to a variety of job duties and industries. Partnerships include Tasty Baking Company and Hanks Beverage Company.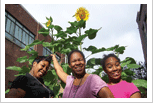 Community Supports

Home and Community-Based Services provides assistance for people to achieve a more independent quality of life by providing access to their community in an exciting new way. Services provided include Respite, Companion, Habilitation and Community Inclusion. A customized action plan is created for each participant to ensure that every person is poised to reach his or her full potential. 
Public Forum- October 31
PUBLIC FORUMS
ON ISSUES FOR PENNSYLVANIANS WITH DISABILITIES
We want to hear from you Southeast Pa!
Friday, October 31
The Arc of Philadelphia
2350 W. Westmoreland St.
Philadelphia, Pa. 19140
2:00 pm – 4:00 pm
Liberty Resources, Inc.
714 Market Street, Suite 100
Wade Blank Rooms A & B
Philadelphia, PA 19106
10:30 am – 12:30 pm
The Disability Rights Network of Pennsylvania, the Pennsylvania Developmental Disabilities Council, and the Institute on Disabilities at Temple University need your input about the issues that matter most to Pennsylvanians with disabilities and their families.
How can we improve supports, services, your community, advocacy, training, and rights for people with disabilities and their families?
Specifically, we would like to hear your ideas about:
1. What disability and social issues should we pursue to provide information and better support for people with disabilities and their families? How can we ensure that civil and human rights of people with disabilities are protected?
2. What training opportunities should be available to people with disabilities, family members, the people who provide supports, and the general community?
3. What research needs to be done to guide policy; improve services, supports and systems; and ensure civil and human rights?
Although our organizations do not provide direct services, we work statewide to improve disability service and social systems, conduct needed research, assist with collaboration and networking, disseminate information, provide training and technical assistance, advocate for positive social changes, and work to ensure civil rights to empower, increase knowledge and improve the lives of people with disabilities in Pennsylvania.
*If you need an accommodation to participate, please contact us at least two weeks prior to the date of the meeting you will attend. Note that we will show a power point during our presentation.
To view all dates and statewide locations of the public forums, and for information on participating via webinar, visit: www.paddc.org; www.drnpa.org; or http://disabilities.temple.edu/
Contact us if you have any questions or concerns at:
Voice:(717) 236-8100; Ext.300 TTY: 877-375-7139; Email:ehowell@drnpa.org
Toll free:(800) 692-7443 Ext. 300
Para información en español: 215-204-9348 latino@temple.edu.
Please attend one of these public forums or send your written comments. To submit written comments, please submit by mail or email at the following addresses:
Postal mail: Disability Rights Network of Pennsylvania
ATTENTION: Eric Howell
1414 N. Cameron Street, Second Floor
Harrisburg, PA 17103–1049
Email: ehowell@drnpa.org
The Institute on Disabilities at Temple University, Pennsylvania's University Center for Excellence, provides community-based training and technical assistance, university-based training, research, dissemination and advocacy regarding people with developmental disabilities and families.
The Disability Rights Network of Pennsylvania (DRN) is the federally authorized, independent organization established to provide legal and other advocacy services to Pennsylvanians with disabilities to ensure that their civil and human rights are protected.
The Pennsylvania Developmental Disabilities Council (PADDC) is a planning and funding group made up of people with disabilities, family members, advocates, and state department representatives who work to create favorable conditions for Pennsylvanians with developmental disabilities and their families.
This announcement is made possible through funding from the U.S. Dept. of Health and Human Services, Administration on Intellectual and Developmental Disabilities. The contents are solely the responsibility of the authors and do not necessarily represent the views of the U.S. Dept. of Health and Human Services. This flyer is available in alternate formats upon request.